Gulf Coast Championship 2019 TKO Qualifier
Held on Sat, June 29 2019
Early Registration closes on • Mon, June 24 2019, 9:59 PM PT • Mon, June 24 2019, 10:59 PM MT • Mon, June 24 2019, 11:59 PM CT • Tue, June 25 2019, 12:59 AM ET
Early registration first event: $40.00, Additional events: $20.00
TKO League
Description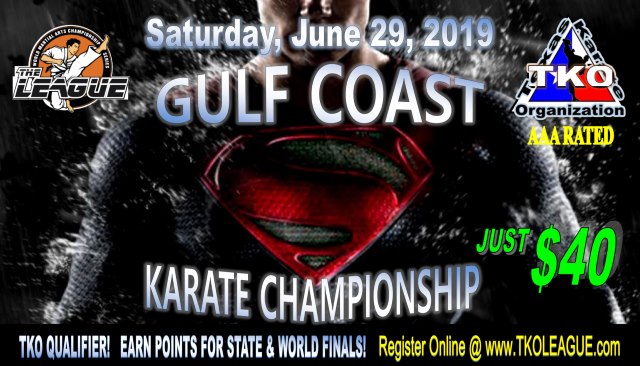 2019 Gulf Coast Championship TKO State Qualifier
We are pleased to invite you to the Gulf Coast Championship TKO Karate Qualifier! We have established a rating system for tournaments and athletes, as well as judging parameters that will serve to elevate the standards and quality of Sport Karate. All competitors to be ranked and qualify for State Finals must attend a TKO Karate Qualifier! Tournaments that uses TKO rules and divisions will be considered a TKO "Qualifier". There will be TKO regions throughout Texas. The players from each Region with the most points will earn top ranking at State Finals.
THE MORE YOU COMPETE AND WIN AT TKO QUALIFIERS, THE BETTER CHANCE YOU WILL RECEIVE THE #1 SEED AT STATE! ALL 1ST PLACE AT STATE RECEIVES THE CHAMPIONSHIP RING!
The state tournament is open to anyone regardless of being a TKO member; however, all TKO members will be eligible to be seeded (placed in a preferred position of competition) at the state finals. Non-seeded competitors will be seeded as "Wild Card" players. The winner of the wild card players will then advance with the seeded players to compete for the state title. We will be using TKO rules at all TKO events . All competitors are required to check and send any corrections before the TKO State Finals deadline on our website. The season begins January and ends October of each year. A copy of the official TKO rules can be downloaded on our website.
We look forward to another fantastic year and hope to see you real soon!
Wayne Nguyen TKO League Founder
---
Train with WKC, NASKA and ISKA World Champion Master Vitro Rodriguez!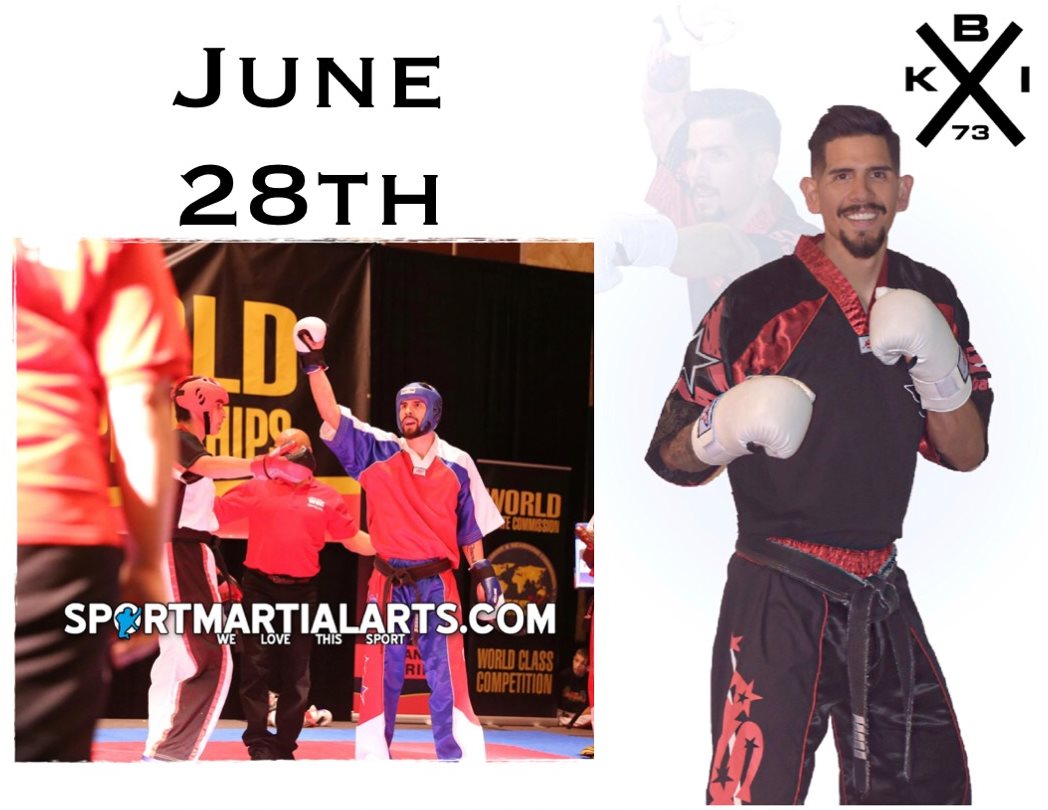 Register for the June 28th Seminar.
The seminar is open to everyone for $40.
4pm-6pm

Elite Sport Karate
311 Kings HWY #7
Brownsville TX.
(956) 295-6143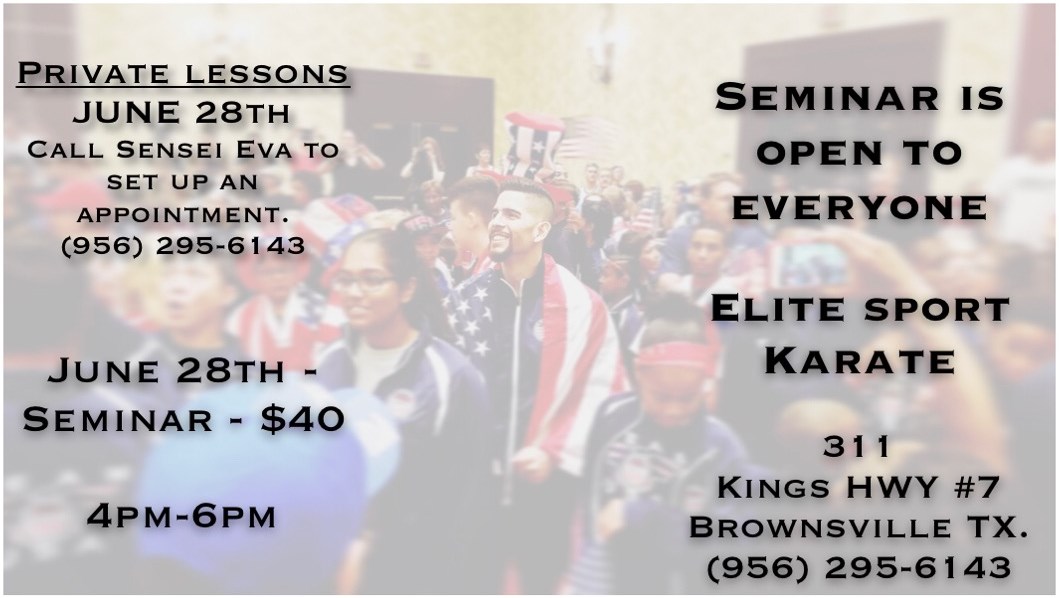 ---
For more information contact:
Eva Ramirez
956-295-6143
Karategirl7735@gmail.com
www.TKOLeague.com
---
Instructions
The Gulf Coast Championship 2019 TKO Qualifier is a Rated AAA (Triple Points) TKO tournament. Points earned at the tournament will go toward TKO State Championship and The League World Finals.
There is no door registration the day of the event. You must preregister online prior to the event.
Be sure to also register for the June 28th Seminar with World Champion Master Vitro Rodriguez - $40. 4pm - 6pm The seminar is open to everyone.
Doors open at 8:00 am. Demo Division, Noodle Sparring, and Flag Sparring starts at 8:30 am SHARP!
When registering, be prepared to provide the following information:
Competitors Photo
Competitors Name
Age
Weight
Rank
Gender
School Name
Contact Email Address
Contact Phone Number
All Competitors are responsible to have Birth Certificates if a protest arises.
NO CHECKS ACCEPTED THE DAY OF TOURNAMENT. NO REFUNDS, NO TRANSFERS, NO SUBSTITUTION —– PLEASE DO NOT ASK!
If you have any questions about the tournament, contact us at:
Eva Ramirez
956-295-6143
Karategirl7735@gmail.com
www.TKOLeague.com
St. Joseph Academy
The Gulf Coast Championship will be held at St. Joseph Academy. Please visit HOTELS.COM for nearest hotels.
101 St. Joseph Dr
Brownsville, Texas 78520
United States
Announcements
The tournament host has not made any announcements for this tournament at this time. Please check back often to keep updated with the latest information.
Resources
The tournament host has not provided any additional resources for this tournament.
Standings
This feature is comming soon!