Phoenix Group North American Championships (2020)
Held on Sat, March 28 2020
Early Registration closes on • Sat, February 29 2020, 9:59 PM PT • Sat, February 29 2020, 10:59 PM MT • Sat, February 29 2020, 11:59 PM CT • Sun, March 1 2020, 12:59 AM ET
Early registration first 10 events: $50.00, Additional events: $0.00
Description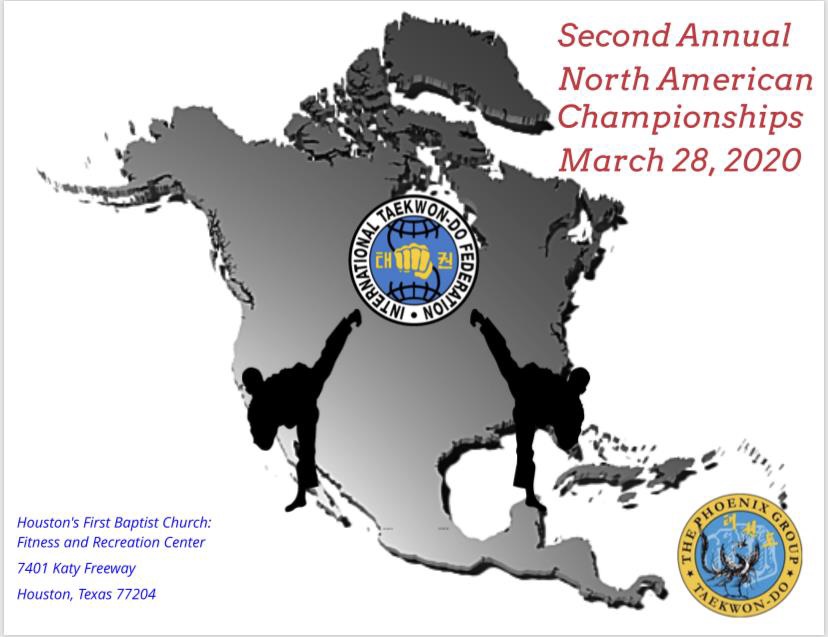 Tournament Date: Saturday, March 28th, 2020 8:00am-6:00pm
Competition Venue:
Houston's First Baptist Church Fitness & Recreation Center
7401 Katy Freeway
Houston, TX 77024
Other Events Venue:
Global TaeKwon-Do School
12603 Louetta RD.
Suite 107
Cypress, TX 77429

Tournament Host: Master William Howard, VIII Dan
Tournament Director: Dr. Robert Carpenter, IV Dan
Umpire Director: Mr. Evan Reynolds, III Dan
For more information or questions, please contact:
Master William Howard at 832-264-4897 or by email at howardtkd@sbcglobal.net or
Master Suzan Crochet at 816-506-4246 or by email to ntkdmsc@gmail.com
Pheonix Group TKD
Phoenix Group North American Championships
Welcome to the 2nd Annual North American Championships hosted by the Phoenix Group, member of the International TaeKwon-Do Federation under President Choi Jung Hwa, son of the founder of TaeKwon-Do.
We look forward to another exciting competition this year. The North American Championships will be hosting individual competitions for all ranks and ages plus Team Events for black belts and red belts 15 years and older. The individual and team events are Patterns, Sparring, Power Breaking and Specialty Breaking.
The tournament will be held on Saturday, March 28th at Houston's First Baptist Church in beautiful Houston, Texas. There will be a Referee Review course on Friday evening, March 27th, before the tournament open to everyone 13 and older.
The Phoenix Group is very proud and honored to have the backing of 2 national non-profit organizations, Solstice TaeKwon-Do Club and Si Jak. Both of these organizations have supported the Phoenix Group and are providing assistance for these North American Championships. We are grateful for their help and support.
The North American Championships was created for our competitors and authorized by both INOs as a proving ground for students who have aspirations to compete in international competitions and the World Championships. This tournament is utilized by our team coaches to identify, evaluate and assess black belt competitors who will eventually become Team USA at our next World Championships.
The tournament will be followed by USA Worlds Team Training on Sunday, March 29th.
Don't miss this exciting weekend of TaeKwon-Do competition!! We hope to see you there!!
Schedule of Events:

Date
Time
Event
Location
Note
Friday, March 27th
6:00pm
Referee Review
Houston's First Baptist Church
Open to all competitors ages 13 and over.
Saturday, March 28th
8:00am
Phoenix Group North American Championships
Houston's First Baptist Church
All ages and ranks, patterns, sparring, power breaking and specialty breaking. Black Belt Team competition.
Sunday, March 29st
9:00am-
1:00pm
USA Worlds Team Training
Global TaeKwon-Do
Led by USA Team coaches. All interested competitors, Red Belts and Above, ages 10 and older are welcome to attend.
---
Events: Individual and/or Team Patterns. Individual and/or Team Sparring. Individual and/or Team Power Breaking. Individual and/or Team Specialty Breaking.
Team Competition: Team Events will be 5-person teams consisting of Red Belt and above, Males and/or Females 15 years and older. 6th person alternate is allowed, but only 5 Team Members will compete in each Team Event. Schools are allowed to send multiple teams.
Rules per ITF Regulations:
Patterns: ITF Patterns Only. Single elimination, color belts perform one optional pattern. Black belts must perform one designated pattern and one optional pattern. Winner determined by a flag system.
Sparring: continuous sparring as per the Current ITF Rules and Regulations. Color belts, 13 and under: 1-1 minute round. Color belts, 14 and over: 1-1.5 minute round. All Black Belts: 1-2 minutes round. Black Belt Final Rounds: 2-2 minute rounds with 1 minute between the rounds.
Mandatory sparring gear: Headgear, Gloves, Boots and Mouthpiece. All males, regardless of age, must wear a groin cup.
Power Breaking: as per the Current ITF Rules and Regulations.
Specialty Breaking: as per the Current ITF Rules and Regulations.
---
Instructions
On-line registration only! Registration will close at midnight on 3/20/2020. Registration Fee is for any or all events. All ranks are welcome to participate (White Belt to Black Belt).
Tournament Schedule:
8:00am: Check-in and Registration
8:15am: Black Belt meeting
8:35am: Line up
8:40am: Opening Ceremony
9:00am: Tournament Begins
Before registering for the Phoenix Group North American Championships you will need the following:
Valid email address
Electronic Picture
Participant Belt Rank
Participant Age and Weight
Taekwondo School Name
Taekwondo School Master or Grandmaster
Taekwondo School phone number
Please note that while you may make changes to your registration up until the registration closing date, all registrations for this Phoenix Group North American Championships are NON-refundable.
The organizing committee reserves the right to split and/or combine divisions at their discretion.
Houston's First Baptist Church
Competition Venue. Tournament will be held in the Fitness & Recreation Center located on Memorial Woods Drive. Parking is available across the street from the Fitness & Recreation Center.
7401 Katy Freeway
Houston, Texas 77024
United States
Global TaeKwon-Do School
Other Events Venue
12603 Louetta RD
Suite 107
Cypress, Texas 77429
United States
Announcements
Monday, February 17, 2020 12:30:47 PM
Tournament T-Shirts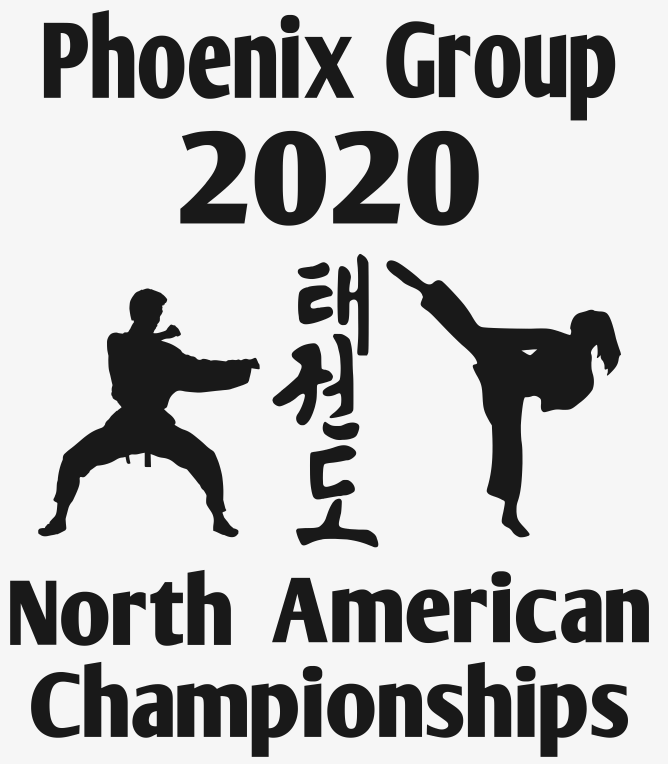 Official Tournament T-Shirt, Available Online for purchase only until March 20th. Order online today and pick them up at the tournament.
Resources
The tournament host has not provided any additional resources for this tournament.
Standings
This feature is comming soon!