American Karate Championships NY 2020
Held on Sun, April 5 2020
Early Registration closes on • Fri, March 27 2020, 8:59 PM PT • Fri, March 27 2020, 9:59 PM MT • Fri, March 27 2020, 10:59 PM CT • Fri, March 27 2020, 11:59 PM ET
Early registration first event: $60.00, Additional events: $15.00
Description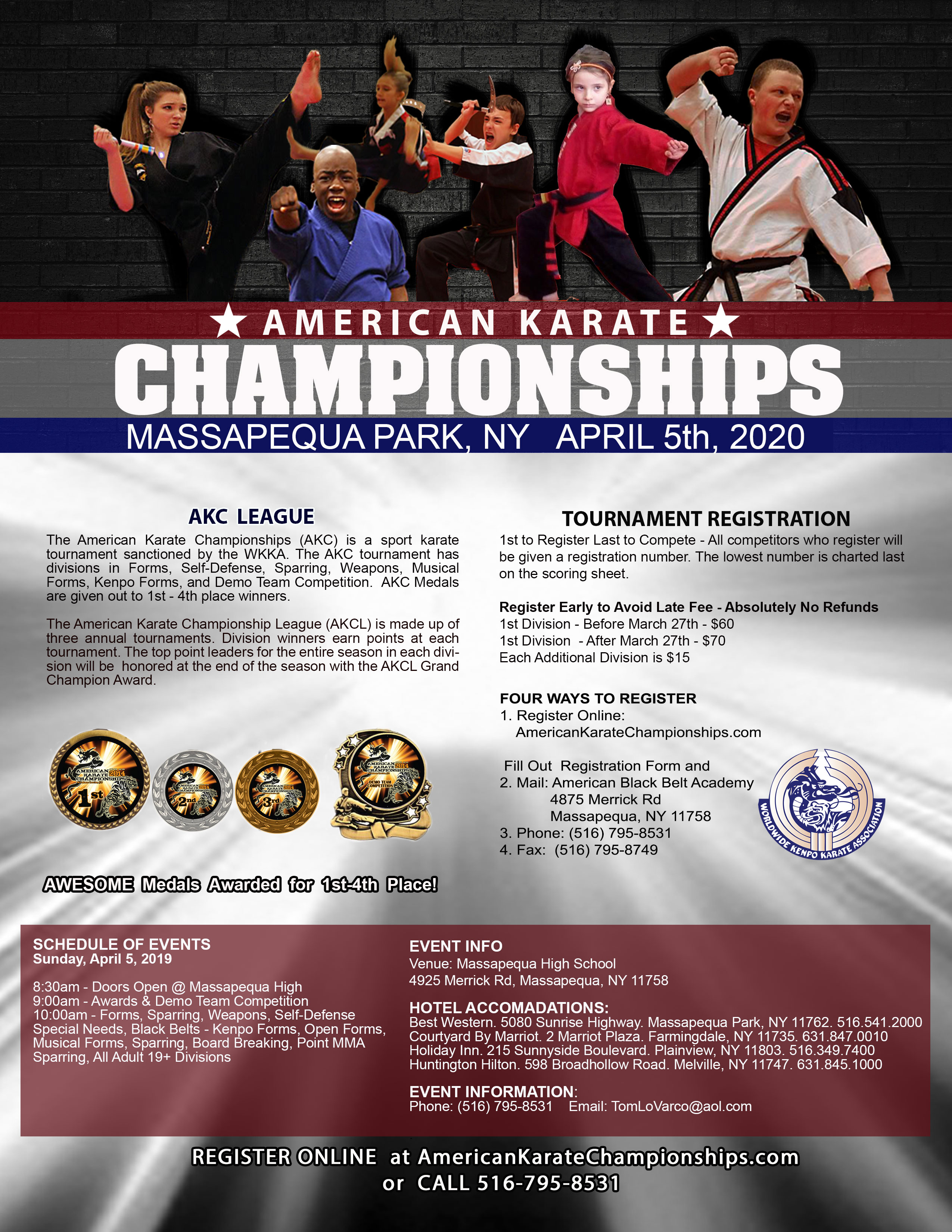 American Karate Championships
Massapequa, NY. April 5, 2020
Our annual karate tournament will be held Sunday April 5, 2020 at Massapequa High School. This event is part of the Worldwide Kenpo Karate League's tournament circuit. This year we will be giving out the Championship Awards on Sunday at 9 :00am. American Black Belt Academy is very excited to host the largest tournament of the season. Last year's event was awesome and we look forward to seeing everyone again this year. As always, one of the goals of this tournament is to build on the character values of Martial Arts. We strive to make this more than just a competition. We hope to make it an event that encourages personal development and self confidence.

Yours Truly,
Tom and Lorraine LoVarco

Divisions for Competitors
At the American Karate Championships, we have divisions for ages 3 years old and up. The age groups are then split by belt rank into beginner, intermediate and advanced levels. We are offering divisions in Forms, Kenpo Forms. Musical Forms (Black Belt Only), Weapons, Sparring, Self-Defense, Board Breaking, Demo Teams, MMA point sparring, and a Special Needs Division. This year we have added a division for Kenpo forms for underbelts. Judges will award medals for 1st-4th place in each division. All tournament competitors 6 years old and under that do not place will receive a participation medal.
Food Drive
Once again, we will be holding a food drive for the St. Rose Outreach Program in Massapequa. We ask each family attending bring a donation of a non-perishable food that will be collected at the entrance door of the tournament.
For more information contact us:
Tournament Director
Tom LoVarco
516-795-8531
TomLovarco@aol.com
www.americankaratechampionships.com
Instructions
The American Karate Championships (AKC) is a sport karate tournament sanctioned by the WKKA. It will be held at: MASSAPEQUA HIGH SCHOOL 4925 MERRICK ROAD MASSAPEQUA, NEW YORK. 11758
When registering, be prepared to provide the following information:
Competitors Photo
Competitors Name
Age
Weight
Rank
Gender
School Name
Contact Email Address
Contact Phone Number
Schedule of Events
Sunday, April 5
8:30am DOORS OPEN
9:00am Championship Awards, Demo Team Competition
10:00am Forms, Sparring, Weapons, Self Defense, Special Needs, Black Belts - Kenpo Forms, Open Forms, Musical Forms, Sparring, Weapons, MMA Point Sparring and Board Breaking

NO CHECKS ACCEPTED THE DAY OF TOURNAMENT. NO REFUNDS, NO TRANSFERS, NO SUBSTITUTION —– PLEASE DO NOT ASK!
If you have any questions about the tournament, contact us at:
Tournament Director
Tom LoVarco
516-795-8531
TomLovarco@aol.com
www.americankaratechampionships.com
MASSAPEQUA HIGH SCHOOL
This event is part of the Worldwide Kenpo Karate League's tournament circuit.
Announcements
The tournament host has not made any announcements for this tournament at this time. Please check back often to keep updated with the latest information.
Resources
The tournament host has provided the following additional resources for this tournament.
AMERICAN KARATE CHAMPIONSHIPS
Standings
This feature is comming soon!